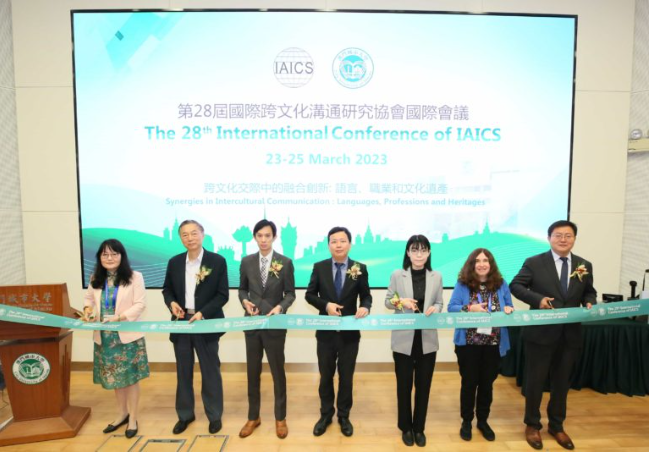 The 28th International Conference of the International Association for Intercultural Communication Studies was inaugurated at the Taipa campus of the City University of Macau (CityU) today at 9 a.m. The conference was jointly organized by CityU and the International Association for Intercultural Communication Studies (IAICS) with the aim to explore synergies in intercultural communication. During the opening ceremony, scholars and guests delivered their speeches. They were Prof. Jun Liu, CityU Rector; Mr. Zhang Haigang, Vice General Manager of China Daily 21st Century English Education Media and Secretary-General of the Language Education and International Communication Committee of the China Association for Comparative Studies of English and Chinese; Prof. Joanna Williams, President of IAICS; Chair Prof. Jin Lixian, Dean of the Faculty of Humanities and Social Sciences of CityU and President-elect of IAICS. This edition attracted more than 100 experts, scholars and leading figures from different countries and regions to participate online and in-person.
Guests, scholars, and students witnessed the opening ceremony. They included Mr. Xu Zhiping, Deputy Director of the University Office under the Education and Youth Affairs Department of the Liaison Office of Central People's Government in Macao SAR; Mr. Carlos Roberto Xavier, Head of the Department of Tertiary Education of the Government Youth Development and Education Bureau; Ms. Lam Weng Na, Head of the Division of Research and Publications of the Government Cultural Affairs Bureau; CityU Vice Rectors, Prof. Zhou Wanlei, Prof. Ip Kuai Peng, and Prof. Chee Seong Chin; Mr. Chu Te Lin, CityU Pro-Rectors; and Prof. Wang Chuang, Dean of Faculty of Education of the University of Macau.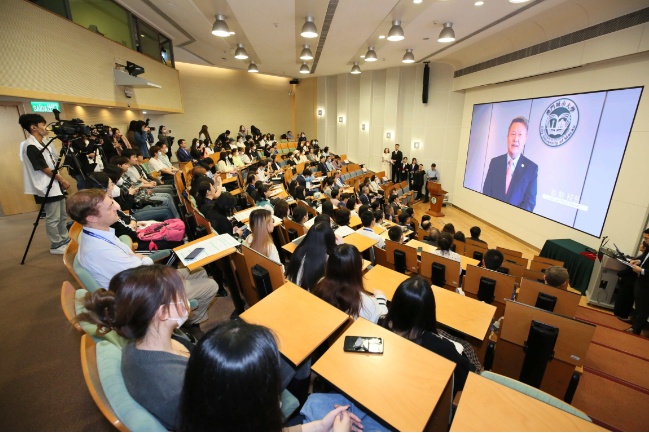 Rector Jun Liu welcomed experts, scholars, and representatives to the international conference on behalf of the University in his opening address. He said that CityU, located in Macao – a multicultural and multilingual environment, is dedicated to promoting the internationalization and academic disciplines in the field of intercultural communication (IC), cultivating talents to broaden global horizons, and striving to expand global connections. Rector Liu mentioned that the University's teaching and research objectives in intercultural communication are in line with IAICS. "Going forward, CityU will continue to strengthen IC studies and provide more experiential learning experiences to cultivate more scholars, researchers, and practitioners of high caliber to serve the needs of society and city development," said Rector Liu.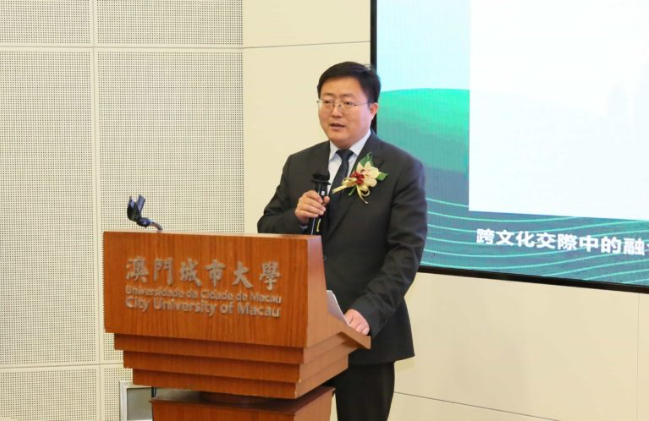 Vice General Manager Zhang Haigang, on behalf of China Daily, congratulated the conference on its opening. "On the 10th anniversary of the proposal of the concept of building a community with a shared future for mankind, it is more important to explore IC studies and increase exchanges and connections between languages and cultures," he said. Vice General Manager Zhang said that IAICS is committed to promoting IC studies, facilitating public understanding towards different cultures, and building a better world. "Sharing similar visions, China Daily is committed to strengthening English education and promoting cultural exchanges. In collaboration with CityU, China Daily will host the upcoming Global English Education China Assembly in Macao. We hope to work with CityU and IAICS to contribute to the development of IC studies," he said.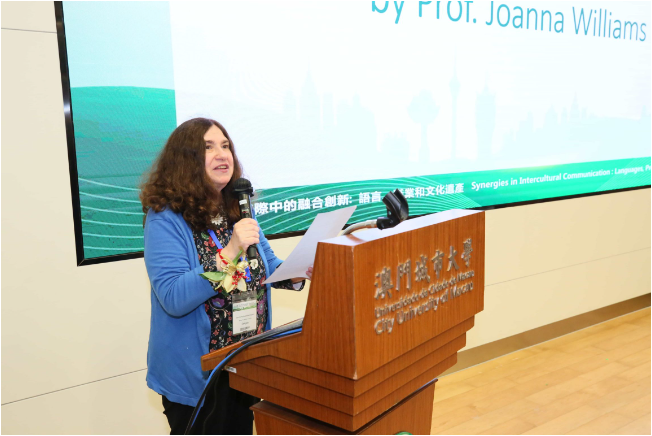 President Joanna Williams, on behalf of IAICS, welcomed participants worldwide who took part online and in-person, and expressed sincere gratitude to CityU and the community for their support. She pointed out that the hybrid conference has attracted and allowed more participants in the new situation of the post-epidemic era, which contributed significantly to intercultural practices. "Macao is a place of multicultural integration with a long history where cultural heritages of China and Portugal are presented. The city has strong cultural compatibility and creativity, and is an open, friendly and harmonious society," Prof. Williams said. She hopes that the participants can learn from each other and have a wonderful time during the event.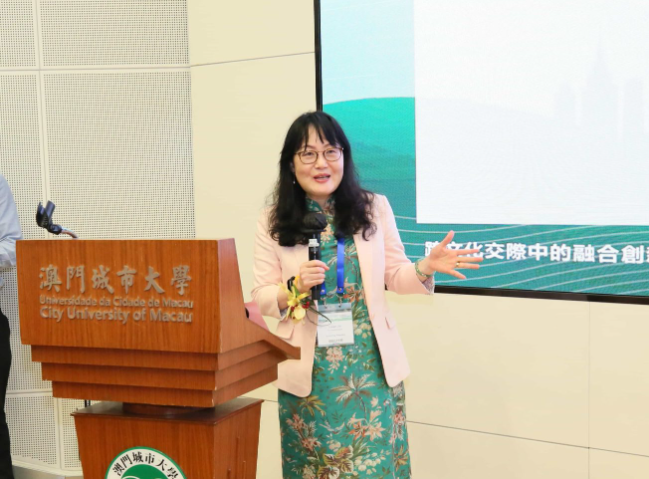 On behalf of the organizing committee, President-elect Jin Lixian expressed gratitude to the governments and community for their generous support. She pointed out that this conference is a major academic event in the post-pandemic era for researchers and practitioners in intercultural communication. This year's conference theme is "Synergies in Intercultural Communication: Languages, Professions and Heritages." She hopes that the 28th International Conference of IAICS will inspire reciprocal and mutual understanding in the workplace and create a better, more peaceful world.
In addition, today's conference also featured keynote speeches from Prof. Zhu Hua, Professor of Language Learning and Intercultural Communication and Director of the International Centre for Intercultural Studies at the Institute of Education of the University College London, and Prof. Zhang Hongling, Vice President of China's Association for Intercultural Communication.
Prof. Zhu Hua discussed new priorities in learning and teaching language and culture with the theme "Open Culture Open Language: The Key Intercultural Communication Issues for Language Learning and Teaching." She shared her insights on the key changes in various conceptions and research methodologies in intercultural communication and discussed the influences of these new priorities on learning and teaching language and culture. She proposed definitions for success, strategies, learning objectives, and outcomes. Her presentation enhanced understanding of passive power dynamics and the differences in cultures, identities, and politics.
Prof. Zhang Hongling delivered her keynote speech with the theme "Enhancing Awareness and Strengthening Dialogues: Exploring the Cultural Identity Construction of Chinese English Learners in the New Era." Learning a language has an impact on learners' cultural identities. Prof. Zhang shared how people construe themselves and define who they are through language. She talked about the blended cultural identity framework for constructing Chinese English learners' identities and examined how enhancing critical cultural awareness and promoting intercultural dialogues can effectively develop learners blended cultural identities.
The two-day international conference, featuring 90 presentations and speeches, focuses on intercultural communication and cultural identities under the context of the development of social media, technology, and businesses. The participants stated that today's event was very rewarding and has inspired their research in intercultural communication and interdisciplinary studies.